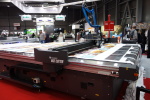 Successful business meetings are implemented at the trade fair every year not only by suppliers of digital technologies, but also by the segment of processing technologies. It is possible to find really a large number of these firms at the PVA Exhibition Centre in Letňany and it is not possible to classify them all into several subgroups only. Great attention has been paid this year (without limitation) to the exhibitors of cutting plotters, milling machines, CNC or laser systems.
Many exhibitors presenting these technologies have been taking part in the trade fair on a regular basis for many years, and some of them even have permanent locations of their stands. Among traditional trade fair participants, it is necessary to mention also the well-known Olomouc-based supplier "HAWE Systems", which regularly presents solutions for both packaging specialists and the advertising sector. An advantage of cutting plotters (Aristo) as well as advanced CNC cutting and milling systems (MultiCAM) is not only their very good performance and long lifetime, but also the open architecture enabling cooperation with all industrial CAD/CAM standards.
European print-to-cut premiere at the Prague Exhibition Centre
Besides the above-mentioned technologies, Hawe offers also a solution for laser cutting (Eurolaser) or plasma cutting, as well as waterjet cutting (MultiCam). A wide offer of all these processing technologies was offered at the trade fair also by other suppliers, whether in the form of live demonstrations of technologies or presentations of finished products. It was also possible to admire a presentation of the "regular star" in the field of cutting plotters for packaging experts, from the Kongsberg company (at the Exhibition Centre presented by Macron Systems, the technology supplier).
A pleasant fact was formed of a number of premieres, not only in the field of digital press, but also from the area of processing, even at a European scale. Appropriate attention was paid to the presentation of Gerber MCT cutter. In this case the matter concerns a single print-to-cut system with complete integration of various work procedures. The technology supplier, i.e. the Spandex company, even chose the Prague Exhibition Centre for its European premiere.
Quite a large European premiere in terms of both performance and dimensions
Gerber MCT Cutter is a universal digital device which is intended not only for cutting, but also for milling and finalisation with a number of integrated work procedures. The progressive plotter type with a robust steel structure can be used for both sheets and rolls, and can be applied to both firm and flexible materials as well. Besides its stability, the technology will attract attention also in terms of its size. It is possible to supply the plotter system, in a bespoke mode, in a number of dimensions, the lowest ones being 1.6 x1.6m, but on a standard basis it is possible to offer such dimensions as up to 3.2 x 6. 4 m! The technology is controlled with the help of the highly intuitive TigerVision Gerber MCT interface, and common import CAD or graphic formats do not mean any problem for it. The system is compatible with a number of RIP SW products and printers as well.