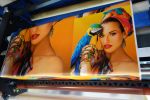 With development of digital technologies, it is currently almost impossible to imagine a manufacturer of packaging materials, advertising agency or signmaking area without any "digital technology". New capital expenditures are implemented or at least prepared not only by the existing or conversely beginning users, but a current trend is represented also by classical large producers of conventional technologies, who use digital printing technologies as an attractive alternative for extension of their business opportunities.
In no case is a decision about the purchase of a digital machine an easy task, and even though one can often read in the press that the most decisive factor is the price of the technology, this cliché has been obsolete for a long time. The current digital technologies offer a wide range of possibilities which are exactly tailored to the client. Of course, the wide offer can often be even less synoptic and more time demanding in terms of orientation.
REKLAMA POLYGRAF OBALY and digital technologies have been interconnected for a number of years
Both manufacturers and their current as well as potential clients have been assessing the attendance of the three Prague spring trade fairs very positively from the viewpoint of information and contacts. The current polygraphy has a wide offer in the area of digital press, whether in the form of variability of materials, formats as well as products. Digital press is a highly heterogeneous matter not only in terms of variable technologies or designs of machines, but of course also as far as the purchase price is concerned. Here, it is, however, especially true that a low purchase price may not mean by far the least expensive deal with regard to later operational costs, servicing etc.
A unique digital trend is CMYK++ and advanced refinement
The current quality of digital press is able to compete, without any problems, with conventional printing technologies even at an industrial scale. The largest trends include multicolour digital machines with a colour gamut as large as possible. In particular, in the field of advertising and consumer packages with added value, a great benefit is advanced refinement, especially in the form of structural effect coating. By the way, it was possible to see also these trends at the stands of the exhibitors, including the best-known companies – DataLine Technology (representing HP Indigo, Scodix, Highcon etc.), Konica Minolta, Mimaki, Oki, Bitcon, Xerox and many others.