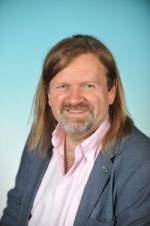 From the viewpoint of both visitors and exhibitors, this year's trade fair is assessed very positively. In order that the existing as well as potential exhibitors intending to take part in the next edition can make an idea, some companies with different business offers gradually present their opinions through answers to the same questions. Large interest has been raised for many years by the product range offered by the DataLine company. Mr. Martin Bělík, Marketing & Sales Specialist, DataLine Technology, explains the importance which this trade fair has for his company.
The DataLine company has belonged among leading exhibitors presenting advanced technologies for quite a long time. On the market it represents especially HP Indigo, Scodix and Higcon. This means super-advanced digital printing, thanks to its high quality known as digital offset, digital effect refinement, including structural varnishing and as the latest news the production type of laser cut-outs.
How many times have you already taken part as an exhibitor in the REKLAMA POLYGRAF OBALY Trade Fair?
I am unable to compute this but I will say it in other words – we have not missed any of the last editions of the trade fair.
How do you assess this year's edition? For example, whether it meant any business opportunities, shift towards a particular product range, useful contacts, overall impression etc. for you.
This year's edition has surprised us very nicely through the large number of visitors. With regard to the structure of visitors we have not exhibited any machines this year, but examples of real products which are produced on our machines. We had many inspiring discussions and negotiations with people from advertising agencies, fine art and graphic specialists, designers as well as users of package solutions.
What were you missing at the trade fair? Would you like to propose any changes, shifts, improvements etc. in the future?
The trade fair is, more or less, the same every year, the level has been traditionally very good. A good idea was to transfer this event from hot May to April which is more pleasant in terms of temperature. I perceive rather the items of accompanying nature, which could be better – for example capacity and quality of refreshment, free parking …
Do you preliminarily consider taking part in the next edition of the event?
Polygraf will be held before Drupa, which means that we will use our participation in Polygraf for inviting our customers to that great event, to sum up: Yes, we will be present at Polygraf.