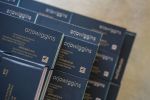 Interconnection of the fields of printing, advertising and packages at the REKLAMA POLYGRAF OBALY (ADVERTISING/POLYGRAPH/PACKAGING) Trade Fair is an especially convenient solution intended mainly for those who offer or (conversely) search for original solutions or advanced production technologies. Current manufacturers of advertising objects, designers, printing experts or package design specialists agree that one of the most important roles during development or production is played by high-quality materials. At the PVA Exhibition Centre it will be possible to see several leading suppliers of various materials in April. And today we would like to introduce at least a small sample of some material innovations.
The wholesale operation of the Igepa company belongs among progressive suppliers with a wide offer. The offer of graphic and office paper includes natural offset paper, coated paper, NCR or self-adhesive paper, cardboards, special graphic paper, paper with certificates for digital print – all of this in a wide range of surface density and formats, including atypical dimensions. Since the company belongs at the same time among the largest suppliers of materials for signmaking on the Czech market as well, it is possible to choose also from the wide range of materials, such as car wrapping materials, materials for digital large-format printing (both solvent-based and water-based machines), materials for screen process printing, engraving, milling or light advertising, plate materials, information systems, window foils.
Papyrus to present an exclusive offer of Gmund Colors
The Papyrus Bohemia company belongs among leading European suppliers of materials as well as associated services. Besides a very wide offer for industrial solutions, the company offers many creative materials. Among special innovations on our market it is suitable to mention the new types of paper "Gmund Colors", the exclusive supplier of which is just Papyrus. The latest offer which has started to be distributed includes even three interesting innovations. A common characteristic of the Gmund Colors Food, Gmund Colors Heavy and Gmund Colors Volume paper consists of fascinating colours, high quality and perfect processability. Gmund Colors Food in 12 colour shades and with a possibility of both matt and glossy designs offers a solution in the field of luxurious packages for the food industry. From the sales expositions to high-quality packing it is possible to use Gmund Colors Heavy, which is offered by the company in surface densities from 480 to 700 g/m². Exceptional stability is offered by the multi-component material "Gmund Colors Volume", which is suitable for book printing, screen process printing, imprint or foundry type. It is ideal for product packages where a high quality and focus on detail are required. The core of the robust corrugated board is backed with the top-quality paper, which means that the matt design of the material surface raises a fine and very exclusive impression.
Timeless and distinctive trends
Creative materials are supplied also by the Antalis company. At the end of the year, this company presented its absolute news in Prague, in the form of the new sample book entitled "The Paper Book 2018-2021", which is formed of sheets of individual paper materials of such brands as Conqueror, Curious Collection, Keaykolour, Rives, Rives Sensation, Pop´Set, Opale and Creative Labels. The Keaykolour series was newly extended from existing 20 to 48 colours. Paper materials with refined metallic surface, known as Curious Metallics, have been enriched this year with 15 new timeless colours, whereby the offered pallet was extended to 30 colour shades. In the new Curious Metallics series it is possible to find not only cool colour shades (Aloe and Aquamarine), but also the deep black colour "Night", which is as dark as night and as rich as obsidian. And even the iconic brand "Conqueror" obtained a support in the form of 3 timeless grey colour shades – Feather, Pencil and Cartridge. The book contains also such samples as Curious Alchemy, a brand-new series of five colours inspired by precious metals which can reflect light.