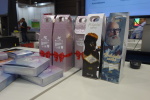 At present, one of the main topics dealt with by package producers is interconnection of digital printing and digital cutting processes, and therefore creation of advanced digital production, whose another associated benefit is customisation, which is always more and more frequently required. Visitors can make themselves familiar with hot news during introduction of complete digitisation of package production at the REKLAMA POLYGRAF OBALY Trade Fair, which is to be held at the Letňany Exhibition Centre already in two months.
High-quality digital printing in connection with advanced technologies in the form of plotters, cutters or lasers is a great topic at all specialised trade fairs, including the largest ones. A pleasant fact for visitors who are looking for new possibilities of extension of their production is representation of leading suppliers from the area of digital printing and subsequent processing at the exhibition centre. This is not only about stands with presentations of artefacts or virtual production. But conversely, almost all the exhibitors who have already got registered for this event will present their technologies "in action", which means that it will not be any problem to verify quality which should correspond with presupposed expectations!
Why digital printing of packages?
Times have changed, job volumes are reduced, but on the other hand customers require much higher flexibility. In case of conventional production, the process is longer due to necessary preparation in the form of printing plates, cutting dies etc. In case of digital production, it is necessary to have high-quality digital printing which does not need any plates. The printing process costs do not rise due to changes during the job processing. And the price of digital printing is not influenced by the size of the series either. The current production digital printing process offers much more than classical four-colour prints to manufacturers of packages or polygraph production, which used to be the case still not so long ago, for example extension of the colour gamut with other direct colours, including white and metallic colours.
Digital cutting does not mean just plotters
And it is possible to observe similar quality development trends also in case of digital cutting, which can be implemented immediately after construction approval by the customer if appropriate equipment is available. Instead of production of a blade cutting tool, the CAM output device will read data and will start to implement this data in the production process. The CAM output may be formed by both plotter and laser devices. And suppliers of both these technologies will not be missing at the exhibition centre this year either. From the viewpoint of the current development of digital cutting, producers offer solutions for the area of "only" dummy sampling as well as for full-value production processes.