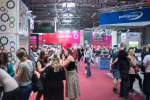 This year's edition of the REKLAMA POLYGRAF OBALY trade fair focused on advertising, printing, packaging and innovative technologies enjoyed great public interest. Almost ten thousand people came to the PVA EXPO PRAGUE Exhibition Centre in Letňany to visit this event. Both Czech and foreign companies, manufacturers, suppliers in the field of advertising presented their innovations, and there was also a rich programme for professionals or car wrapping demonstrations. The official cars of the trade fair event were FORD automobiles.
The REKLAMA POLYGRAF OBALY Trade Fair is a traditional and unique event of its kind in the Czech Republic and this year it offered products and news from 147 exhibitors from eight countries across the continents. Altogether 9,873 visitors came to see the innovative, efficient and creative products and technologies located in the Exhibition Centre halls on an area of 8,200 m2. What highlights were on display?
For this year's trade fair, CANON prepared solutions which drew the attention of professional print providers as well as interior decorators. It was possible to see the Canon Colorado 1650 roll-to-roll printer, which forms the heart of the digital wallpaper printing solution. The purpose was to present the strengths of Canon's UVgel Wallpaper Factory technology, which are the endless possibilities for wallpaper personalisation and customisation. Flatbed printers were represented by the Canon Arizona 1380 GT printer. One of the long-term leaders in multifunction, digital and production equipment sales is Konica Minolta, whose products were presented in Hall 2. The main attraction of its stand this year was the flagship AccurioJet KM-1e with HD, which the exhibitors enlarged to oversize dimensions.
Within the framework of this year's trade fair, COMIMPEX PRINT showcased an effective solution for low-cost and fast textile printing with the help of polyester film (DTF). The automated thermal transfer printing line simplifies the printing of T-shirts and garments, features low operating costs and is suitable for medium and small product series. The main attraction of the IGEPA stand was the Epson SC-V7000 UV flatbed printer and all the different materials on which this printer is able to print.
Printing as well as promotional textiles
In Hall 2, where the stands of companies doing business in the field of printing and signmaking were installed, there were also such companies as SPANDEX, KONICA MINOLTA, BITCON, KOMFI, PAPYRUS and Slovakia-based NANOTEC. In addition, the printing section included also presentations provided by Papyrus, AWC MORAVA, PROFISIGN plus, Electron, Narran, COMAC, Tepede, OKI Europe and other well-known companies.
In the section of companies offering promotional textiles, there were products of Malfini, Alpitrek, New Wawe, Cotton Classic, Kapatex and others. Products of specialists in POP, POS and packaging materials were presented as well, such as Nedbal Trading, Brother Sewing Technology, Stick, Brand Gifts, Colop, Modico Graphics, Grapp, SDI Gifts or Paketo.one, which focuses on the production of floor and counter stands, boxes and special packaging made of cardboard materials and corrugated cardboard. Visitors could find laser engraving, cutting or CNC machines at the stands of Uhal Trade, FIT Eurazio, 4cut, První hanácká BOW or HaWe systems. The trade fair included also a special section "3DEXPO", where stands of ten exhibitors presenting 3D printers and the latest trends in 3D technologies were situated.
Tailor-made programme for professionals
The REKLAMA POLYGRAF OBALY Trade Fair included a rich accompanying programme as well. The story of the production of the book entitled "Skútr ve městě" (Scooter in the City) was presented to the public, and visitors could attend a series of lectures focused on the topic "Times are changing. How is polygraphy changing?". Within the framework of this block of lectures it was possible to listen to such speakers as Marian Hains from VELDAN or Petr Breburda from Igepa CZ, and Tibor Nagy, Sales Director of Koenig & Bauer for the Czech and Slovak Republics, and Martin Bělík from DataLine joined the moderated discussion about printing and marketing trends.
Canon's printing experts presented practical information and tips. Those interested could see a demonstration of the Canon Wallpaper Factory solution using Canon's patented UV gel technology for digital printing of interior decorations and wallpapers. Five installations in Czech interiors were presented. These installations inspire the possibilities which digital technology offers to anyone interested in using it for small-run wallpaper printing series with original designs.
Within the framework of the trade fair programme, an award was granted to the Calendar of the Year 2022 and lectures by GRAFIE CZ were held, focusing on the topics of print data automation, MIS/ERP for printing production and modern W2P for printers. There was also an announcement presenting results of the competition for the best signmaking implementation of 2021 "Rainbow Ray". A special CAR WRAPPING programme was also held continuously throughout the REKLAMA POLYGRAF OBALY Trade Fair, which showed tips, tricks, advice and bonding presentations including material demonstrations implemented by the hands of industry experts and specialists.
AWC
Tvar
Hala_2